2011 CES Perspective, Day 1
Post by Caitlin Bristol, Sponsored by Nokia.
From the Consumer Electronics Association's release of their 2010 Sustainability Report highlighting the progress in environmental initiatives and shedding transparency on the current practices of the industry, to rows and rows of booths touting the latest and greatest in green tech, my first day at CES was just the tip of the electronic iceberg.
I chatted with a start-up company, ecosquid.com, that works to give consumers cash for their old electronics or match them with the best recycling option for their device, not unlike the Instant Sale program our friends over at eBay Green Team launched last year. Check out the quick interview below from founder Nik Raman: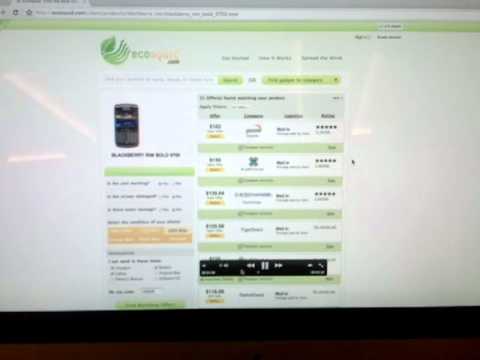 Then there's gazelle.com, a company that's powering the electronic trade-in programs of big box stores like Walmart, Office Depot, and Sears. Their hope is to make the purchase of electronics similar to that of cars – easy, smart and more affordable to buy second-hand. The ultimate goal is for consumers to be able to walk-in and "trade-up." A recent pilot program with Office Depot allowed consumers to come in-store with their old laptops and depending on the model, get a credit of up to $150 dollars towards the purchase of a new one. Gazelle then works to find a home for the old laptop, whether it's resold or recycled responsibly.
For those less interested in the actual gadgets, what about making your time spent using electronics a little more comfortable? I caught up with the team at Herman Miller to check out the latest Yves Behar designed, MBDC certified, SAYL chair – all the quality and eco-friendly attributes of a Herman Miller chair, for about half the price ($499).
For complete work space elation, pair the SAYL chair with an ergonomic envelope desk, an easily adjustable desk for supreme comfort and mobility. Herman Miller debuted a standing, powered version of the electric desk (check out the demo video below). At $3,000 it's definitely an investment, but one your back will thank you for. If you can do without the standing height, a regular envelope desk retails at $1,200. As always, Herman Miller never ceases to impress with their commitment to smart, beautifully designed products, backed with firm environmental stewardship standards.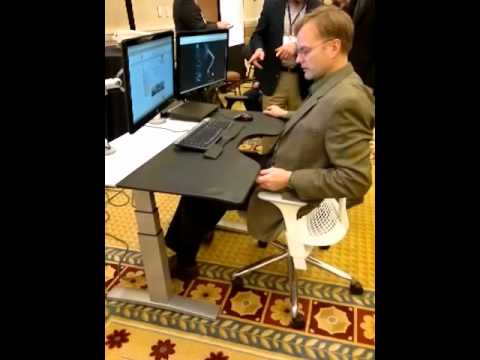 One of the largest categories at CES is automotive, which I didn't initially view as a "consumer electronic" but with all of the smartphone syncing, bluetooth, and gps navigation, it's easy to see how cars are becoming the new all-in-one gadget. I got a quick chance to chat with the team from Hyundai about how they're using game mechanics to increase the fuel efficiency of their drivers with a program called "eco coach."
Check out the video below for an explanation on how Hyundai tracks and shares the data of drivers with the same car, and then rewards those that meet certain benchmarks and standards for "eco" driving.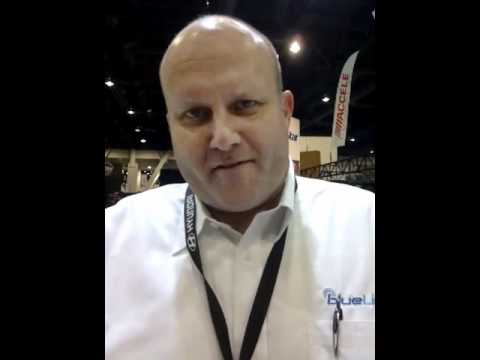 Without a doubt, the highlight of the day was a test drive in the new all-electric Nissan LEAF. The drive was incredibly smooth, even when I put the car into "eco mode" – an increased energy-saving setting for longer commutes.
I was also impressed to learn that the interior fabric was made out of recycled water bottles – even when cars have great fuel-efficiency, they are often still produced with heavily off-gassing, toxic interiors (like chromium-tanned leather). Congrats to the LEAF team for carrying out the eco-conscious sentiment of the car through to the finer design details!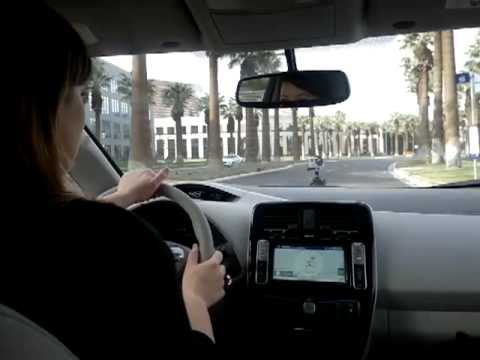 I'd also like to extend a special thanks to Nissan for driving us back to our hotel in the LEAF – not only did we cut out carbon emissions, but we were super efficient on time without having to wait in that huge taxi line, what a way to end day 1 of our CES Perspectives program with Nokia! Here's a picture of the entire fab four team: Tracey Clark of ShutterSisters.com, Shannon Hurst Lane of TravelingMamas.com, myself, and Alex Kierstein of Hooniverse.com – all ready and armed with our Nokia N8′s to capture our CES Perspective.
*photos and videos were all taken using the Nokia N8